There are various non profit internship opportunities listed below for local charitable organizations.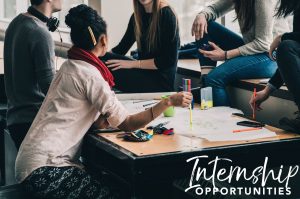 Gifts for All God's Children
Special Assistant to the Executive Director
The Intern will be responsible for attending various meetings and events on behalf of GFAGC, provide support in the continuing efforts to manage email, social networking and general administrative support assignments to include data entry and marketing of our nonprofit.  The Intern may also provide possible  assistance with preparing meeting materials, and networking with various community reps and programs.  Executive Director may also assign intern/s to special projects.
Videographer Intern
The Intern will be responsible for working to develop a docu-series to advertise the organization, and our needs. The Intern will work as part of a team to develop the video concept based upon the needs of the organization, and assist with the writing of the video script. They will be responsible for filming, setup of shots including lighting, advising on layouts, and wardrobe. The Intern will also be responsible for editing the footage into quality, finished videos for the organization to post on their website, Youtube, social media, etc. Additionally the completed videos will be provided on an external drive (provided by the organization) or CD/DVD for use during speaking engagements.
Both internships will primarily work from home or at our Workshop located at 51220 Van Dyke, Shelby Township, with some travel to be determined for occasional meetings and consultations.
Stipend: Although no stipends or funds will be exchanged for services rendered, there will be no out of pocket expenses. Travel and gas mileage will be reimbursed, and any special meeting costs will be pre-paid by the non-profit.
Date of Positions: June – December 2018,  January- May 2019 and June 2019 – August 2019
Time Commitment:  6-12 months (flexible w/ applicants' availability and or the need for more interns)
Contact: pjacques@giftsforallgodschildren.org and for questions call 248-933-7472 with resume and cover letter
PLEA Foundation Internships
Sponsorships/Donations Intern
Responsibilities may include:
Communicating with donors and supporters over email, mail, and phone
Researching potential donors
Building relationships with current and future donors
Requesting in-kind donations and sponsorships from local businesses
Picking up donations
Assisting the publicity team in hanging event flyers at local businesses
Creating and managing social media content
Assisting in event coordinating and planning
Attending events as a Plea Foundation representative
Requirements:
Strong written and verbal communication skills
General knowledge of Microsoft office and related software
Detail oriented
Organizational skills
Ability to manage time
Interest in public relations and fund development
Please submit your resume and cover letter as PDF documents via e-mail to: Ashley McMahon, Human Resources Manager, at ashleyo@plea.net
Marketing Intern
The Professional Law Enforcement Association (PLEA) is seeking Interns in the Metro-Detroit (Troy) area. The intern will assist the Marketing Director with certain Marketing tasks including: Making marketing materials, assisting with bulk marketing mailings, social media, grant research, and Sponsorship/Donations research. The intern will also have the opportunity to assist our Media Marketing Coordinator with our Quarterly Newsletter, which is sent out to all of our members nationwide. The majors/industries that would best fit this internship include: Marketing, Communication, Public Relations or Non-Profit Management, but we are open to others who may be interested in non-profit or service industries. This internship is unpaid, however, there are opportunities for employment after completion of internship based on job performance and job availability. Please submit your resume and cover letter as PDF documents via e-mail to: Ashley McMahon, Human Resources Manager, at ashleyo@plea.net
Position Type
Internship/Career Related, Unpaid Internship
Desired Major(s)
Marketing, Communication
Job Function
Creative/Design/Multimedia, Data Entry, Fundraising/Development, Marketing, Non-Profit, Writing
Qualifications
We are seeking an intern with experience with various clerical functions, with knowledge of Microsoft Word, Publisher, Excel, and basic computer skills. We expect the intern to work a minimum of 16 hours a week, with a maximum of 20 hours.
Contact Information
Ashley McMahon
ashleyo@plea.net
Accounting Intern
Responsibilities may include:
Invoicing clients
Assist with month end process (Checks and Balances)
Updating and adding membership information to database
Filing
Assist with the Paperless transition
Re-marketing to old clients/groups
Market to Current and Prospect Clients/Groups
Update Current Client Information when needed
Assist with prep and running Fundraising Events
Assist Account Manager and PLEA Foundation Rep. with various tasks
Requirements:
Strong written and verbal communication skills
General knowledge of Microsoft office and related software
Detail oriented
Organizational skills
Ability to manage time
Interest in Accounting, Business, Non-profit Management and/or fund development
Please submit your resume and cover letter as PDF documents via e-mail to: Ashley McMahon, Human Resources Manager, at ashleyo@plea.net
Graphic Design Intern
Responsibilities may include:
Make Marketing Packets
Assist with Bulk Marketing Mailings
Design Social Media Marketing
Design flyers for PLEA programs
Involved in Creative Marketing Process
Attend Monthly Office Meetings (If available)
Assist with Compilation and Creation of PLEA Newsletter
Design flyers for Fundraising Events
Assist with prep and running Fundraising Events
Assist Executive Director and PLEA Foundation Rep. with various Design tasks
Requirements:
Strong written and verbal communication skills
General knowledge of Microsoft office and related software
Detail oriented
Organizational skills
Ability to manage time
Interest in Graphic Design and Non-profit Management