Rochester Area Memorial Day Parade of Heroes

Memorial Day Activities 2022
Memorial Day 2022
Approximately 20 parade entries including fire trucks, a marching band, and more will line up in the parking lot at Van Hoosen Middle School on Monday, May 30, 2022. At 11:30 am, participants will then walk the parade route north on Adams Road, ending at the Veteran's Tribute of Oakland Township. Upon reaching the site, parade organizers and supporters will host an hour and a half long Memorial Program featuring: an invocation, song, speeches from community leaders and concluding with recognition of local veterans in attendance.
 
Please join us in celebrating this valuable community event!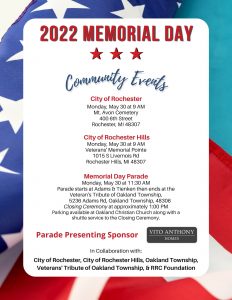 Click the picture above or download the Memorial Day Community Events Flyer here!