We are grateful to pivot our normal business operations from in-person events to comply with governmental safety regulations, by debuting the Sunrise Pinnacle Awards in a Livestream Premiere, thanks to the help of 148 South Street Studio! This digital format ensures participant safety as we honor the local leaders and difference makers in our community. Special thanks to presenting sponsor PNC Bank.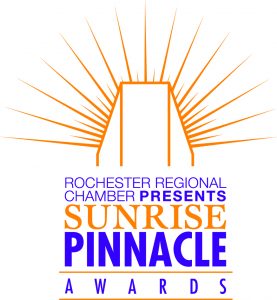 About the Pinnacle Awards
The Sunrise Pinnacle Awards Ceremony, organized each year by the Rochester Regional Chamber of Commerce, is an opportunity for the greater Rochester communities to honor the accomplishments and contributions of our region's most visionary leaders, entrepreneurs, nonprofit organizations, and businesses.
In previous, in-person gatherings reached over 500 attendees of people honoring local award winners.
Business Awards
Prefix Corporation won Business of the Year Award sponsored by Moceri Companies
Felicia Harris, Everything HR & Everything HR Financial Services, won Business Woman of the Year sponsored by PNC Bank
Tenita Johnson, So It Is Written LLC, won the Diversity Award sponsored by Flagstar Bank
Corrin Barnett, Coco-Ray Boutique, won Entrepreneur of the Year sponsored by Mattina, Kent & Gibbons, P.C.
Chamber Awards
Marie Orzel, The Intelligent Office, won Ambassador of the Year sponsored by Bellbrook
Judge Julie Nicholson, 52-3rd District Court, won Board Member of the Year sponsored by Pixley Funeral Home
Lori Asmer, Flagstar Bank, won Leadership Greater Rochester Award sponsored by PAR Pharmaceutical
Drew Grabinski, Sinclair Wealth Management Group of Raymond James, won Young Professional of the Year sponsored by Chief Financial Credit Union
Community Awards
Kristi Trevarrow, Rochester Downtown Development Authority, won Community Hero sponsored by Oakland University
Oakland University Oakland Center Student Union won Front-Line Leader Award sponsored by Ascension Providence Rochester Hospital
John Lyman, Rochester Hills Fire Department, won First Responder of the Year sponsored by The Crawford Insurance Group
Ellie Saxson, Volunteer at Ascension Providence Rochester Hospital, won Volunteer of the Year sponsored by Shelton Buick GMC
Lifetime Achievement Award
Mary Lee Kowalczyk won the Lifetime Achievement Award sponsored by First State Bank